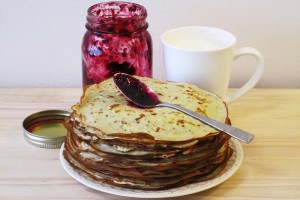 1.  Combine  everything and add to flour, stirring with a whisk until almost smooth.
2. Preheat frying pan over medium heat. When the pan is hot, add about ½ teaspoon butter.
3. When the butter has melted, pour  batter into the pan. Swirl the batter so that it entirely coats the bottom of the pan.     Cook for 1 to 1½  minutes or until golden brown on one side.
4. Use a spatula to lift an edge of the crepe. Grab it with your finger, slip the spatula underneath, and quickly flip it over. Cook for another 1 minutes or until a bit lighter shade of brown than the first side, and then slide it out of the pan. Repeat with the rest of the batter and stack the finished crepes on top of each other to keep them warm.